Valentines Day. It's easy for those of us who may be in longtime or newly formed relationships to get excited about a holiday that provides an excuse to show and tell our partners, friends or family how much we love them. This year, nearly two decades into my own marriage, it's even more clear that this is something that needs to be done weekly, if not daily.
What is love anyway? What does it mean to be IN love with someone? These questions are very intriguing to me and led to some internal dialogue and searching this morning. A quote from an article I read on Psychology Today really stands out, "Relationships tend to go south when we stop taking actions that our partner would perceive as loving and instead start looking to our partner solely to meet our own needs." I think if we were to use this quote relative to every day friendships, it would easily correspond to simple compassion and giving with no strings attached. Giving time, compassion, a friendly smile, ear or shoulder to cry on with no expectation of something in return. This includes one of the most important relationships in our life, our relationship with ourself.
Communicating love is also a very important factor in all relationships, but especially romantic ones and parent/child relationships. Ensuring you and your partner are speaking the same language when attempting to show and tell love is vital. We have found the Five Love Languages test a helpful tool in assessing our own language and how we can be more effective through our communication process. If you aren't sure what your love language is, follow this link to take the test. You might be surprised at the results or it might confirm something you already know to be true and now makes more sense.
If your or your partner's love language is receiving gifts, I've put together a package this Valentines Day. You can conveniently purchase a gift certificate for the package or sessions a la carte online via the button in the top of the sidebar.  —>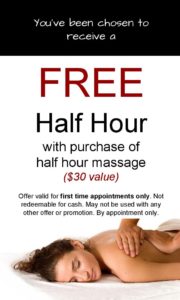 I'm in the process of rebuilding my practice and am sharing the love through a very special offer of a FREE half hour massage with the purchase of a half hour. This equates to a full one-hour massage for $40 or a 90-minute massage for $65. This offer is only good for first time appointments and rewards existing clients with free sessions for every six referrals.
My schedule is open for appointments on Tuesday/Thursday mornings, Wednesday evenings and Friday & Saturdays, flexible times. I hope to have the opportunity to take care of you or someone you love this year.
Peace, love and light….
Christy