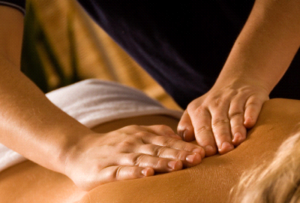 State and nationally licensed to practice massage since 2003, I've managed to help hundreds of clients better connect with their bodies, enabling them to function at a higher level of success in daily life. Over the last decade, I've explored techniques and modalities that are customized for each individual client.
Your massage session may include a combination of Swedish massage techniques, sports therapy, passive stretches, trigger point therapy and/or deep tissue work to help you meet your personal wellness goals.
Aromatherapy, heat packs and warm towels accompany every session. Pandora music stations are available by request if you have a special type of music that helps you relax. 100% pure grapeseed oil, Anti-flamme and Tiger Balm are among my favorite mediums for massage sessions.
Regular Prices
35-Minutes  $40
One Hour     $65
75-Minutes  $80
90-Minutes  $95
Two Hour     $130
Click here to learn about the VIP Club for discounted pricing!
Aromatherapy Facial Steam Add-On $15
Warm, gentle steam infused with aromatherapy over the face for the first 15 minutes provides a mild form of sensory deprivation, invoking deep relaxation while it hydrates and soothes the skin and sinuses.