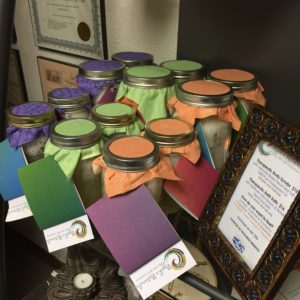 YOU CAN NOW PURCHASE ONLINE!
Therapeutic Bath Soaks
32-ounce jar, $16.00
Lavender & Eucalyptus  |  Sweet Orange & Grapefruit  |  Rosemary & Spearmint
Therapeutic Body Scrubs
16-ounce jar, $12.00
Lavender & Eucalyptus  |  Sweet Orange & Grapefruit  |  Rosemary & Spearmint
The highest quality salts available, Bokek® Dead Sea salt & SaltWorks® Ultra Epsom® are the purest, most mineral-rich salt of their kind. With SaltWorks® proprietary Optically Clean® technology and careful sourcing, the quality and authenticity can't be beat. Bokek is recommended to relieve the symptoms of dry skin disorders, such as psoriasis & eczema, to help ease sore muscles & joints, and for overall detoxification.
SaltWorks® Ultra Epsom® Salt is the highest quality, USP grade Epsom salt available. The Ultra Epsom brand of magnesium sulfate is known for its exceptional therapeutic value and purity. Epsom salt has beneficial properties that can soothe the body, mind, and soul. Health benefits include relaxing the nervous system, curing skin problems, soothing back pain and aching limbs, easing muscle strain, healing cuts, treating colds and congestion, and drawing toxins from the body.
We use 100% pure grapeseed oil, obtained from the seeds of grapes and imported from Italy. It contains antioxidants, anti inflammatory and astringent properties as well as linoleic acid to help strengthen cell membranes and improve skin health generally. Imported from Italy, this oil helps eliminate acne, tighten and moisturize the skin and minimize aging.
A portion of the profits from sales go to support sea turtle and marine conservation through Turtle Island Restoration Network. When you make your purchase, you will feel good about the impact your investment will have, both locally and globally.
Want to earn free product? If you'd like to earn free product and help Nyah obtain more orders, simply have your friends, family and co-workers pay you directly and you can submit the entire order online via the link above, paying with your credit card. We'll fill the order and deliver it to you. Five jars ordered will provide you with a free eight-ounce body scrub of your choice and 10 jars orders will provide you with a free eight-ounce scrub and 16-ounce bath soak of your choice.