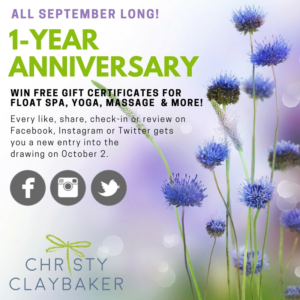 All September long we're celebrating my one year anniversary!
Win FREE gift certificates for Theta Float Spa, Essential Yoga, massage therapy and more! Every like, share, check-in or review on Facebook, Instagram or Twitter gets you a new entry into the drawing on October 2.
I'm also excited to announce my schedule has opened up for more appointments on Tuesdays, Thursdays and Fridays. The office has been redecorated and my phone number has changed to (417) 877-6945.
I'm excited to see you all online and who will win the goodies!