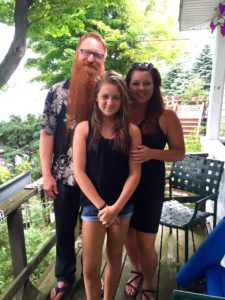 About me? Well, I'm a child of the 70's…mom, wife, visionary, philanthropist and erroneous human and just celebrated my 40th birthday.
Just after my husband, Curtis, and I married in October of 2000, we moved to Chattanooga, TN. After about a year, we decided to return to Springfield, Missouri. We planted seeds, let the roots grow deep and are now well-established with a teenage daughter, full of adventure like her parents.
Since 2008, I've been actively involved in local food and holistic wellness community initiatives. When I'm not leading garden volunteer sessions or helping clients feel better, I'm traveling and spending time outdoors with family and friends.
Now, nearly two decades into my journey along the path of holistic health, I'm able to use my technical training and intuitive abilities to deliver a truly unique session for each client. Licensed and nationally certified to practice massage therapy since 2003, I have a keen ability to connect with people. Embracing this gift, I became a Certified Life Coach in 2016, focusing my studies on mind-body coaching for achieving happiness.
If you're looking for a regimented portfolio of experience and business credentials, you're welcome to visit me on LinkedIn.
If you'd like to get to know me better, I encourage you to connect with me via social media and subscribe to my blog.